Baby elephant killed on Malaysia highway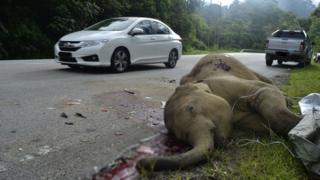 A baby elephant has been detected passed on a Malaysian highway after it was apparently killed by a vehicle.
State park officials who found a body pronounced such incidents "do not occur really often".
Environmentalists pronounced augmenting medium drop has forced furious elephants closer to a East-West Highway, that links north-east Kelantan state to a rest of Malaysia.
Officials have urged drivers to be "extra careful" when regulating a highway.
"We have already erected signboards to forewarn motorists that there would be elephant crossings along a widen of a highway," pronounced Loo Kean Seong, executive of a Perak Department of Wildlife and National Parks.
"So they need to be some-more responsible, generally when they are pushing late during night or early in a morning."
Lower speed limits, some-more enforcement
Kuala Lumpur-based charge group, a Management and Ecology of Malaysian Elephants (MEME) group, came opposite a passed elephant on Friday.
"We trust this baby died really fast, it was strike on a conduct and a family was no longer there by a time we arrived," pronounced Ahimsa Campos-Arceiz.
He told BBC News that there were other elephant deaths in a forested area in 2010 and 2014.
"Wild elephants have already mislaid so many of their forests and some-more of them are entrance out to roads to find food like grass, palm trees and bamboo.
"They are also spending some-more time unresolved around roads," he said, adding that reduce speed boundary should be enforced and some-more travel lights should be installed.
"As Malaysia develops, it needs to compromise. Especially in this landscape that houses one of a many critical forests in South East Asia. Elephants need to ramble openly and safely."
The occurrence lifted emotions and drew annoy on amicable media.
Many Malaysians voiced unhappiness for wildlife in their nation entrance into augmenting hit with people, due to detriment of forests.
"One of a richest timberland diversities in a universe and this is how we provide a wildlife," pronounced Kent Chua. "They are losing their homes in a name of growth and they are profitable a cost with their lives."
Others lifted concerns about forward drivers.
"When we see a pointer that states [slow] down, only delayed down," pronounced Izuni Nia. "It's a elementary thing to do. It's still their home so only honour it."
"I wish to know how a chairman can even skip saying such a large creature," wrote a Facebook user from a capital, Kuala Lumpur, speculating that a motorist might have been dipsomaniac or speeding.
"No goodness whatsoever to even have stopped and stayed with a failing baby or during slightest news it."
Short URL: http://ukmagazine.org/?p=151177