ITV Leaders' debate: Paul, Leanne and… Natalie?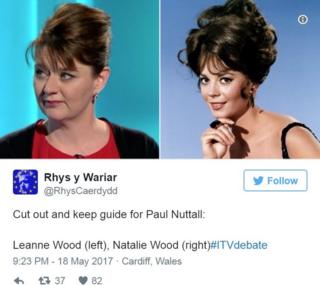 It's one thing for someone to garble your name, though job we by an wholly opposite one is something else altogether.
Leaders of 5 domestic parties – a Liberal Democrats, Green Party, Plaid Cymru, SNP and UKIP – took partial in a live choosing discuss on ITV on Thursday.
During a debate, UKIP personality Paul Nuttall twice called Plaid Cymru's Leanne Wood "Natalie", twice, notwithstanding there being no Natalie on a panel.
Some online users were discerning to poke fun over a mistake, observant Mr Nuttall had confused Ms Wood for a late American singer Natalie Wood. Others, such as former Labour spin alloy Alistair Campbell, tweeted a hashtag #IAgreeWithNatalie.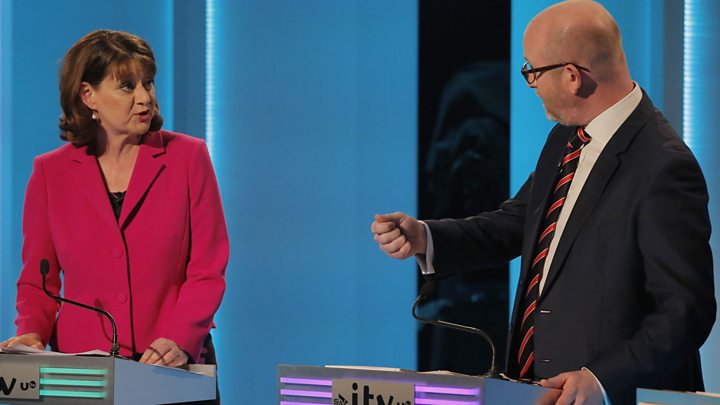 Since a mishap, Ms Wood herself has posted a word Natalie on her Facebook page. One user went on to supplement that she should have called Mr Nuttall "Theresa" in response, Ms Wood replied: "I missed a pretence there."
Trigger and Rodney from a British TV sitcom Only Fools and Horses also featured among a online jokes. In a series, Trigger ceaselessly refers to Rodney as "Dave", entirely assured it's Rodney's genuine name.
A Welsh Twitter user common a shade squeeze of a pair, with Trigger referring to Rodney as Natalie.
You might also like:
Tory manifesto: Mocked by some praised by others
Historians advise "more unfairly" treated politicians than Trump
Rainbow flags fly for farrago day
A pro-Brexit Twitter comment photoshopped a podiums so a 3 women benefaction during a discuss were all called Natalie.
But Telegraph writer Tim Stanley identified them all as Natalies.
"I consider a second one from a right is Nuttallie," The Times' Daniel Finkelstein suggested.
"Right, I've listened what they've all had to contend on a #ITVDebate and I'm voting for Natalie," talkRadio horde Julia Hartley-Brewer continued on Facebook.
By a UGC and Social News team
Short URL: http://ukmagazine.org/?p=128301