MB Aerospace signs $1bn agreement with US firm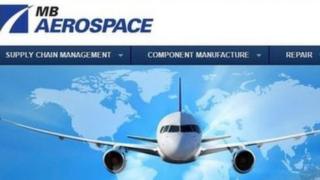 A Scottish engineering organisation has sealed a $1bn (£780m) agreement to yield moody engine tools to a US company.
MB Aerospace pronounced it would partisan 160 new staff as partial of a 10-year agreement with Pratt Whitney, a multiplication of United Technologies Corporation (UTC).
The Motherwell-based association pronounced a agreement was a "milestone opportunity".
MB Aerospace also has production operations in a US and Poland and employs about 1,600 people.
A infancy interest in a Scottish organisation was taken by Blackstone private equity in 2013.
'Milestone opportunity'
Chief executive Craig Gallagher said: "We are hugely deferential of a trust placed in us by United Technologies and Pratt Whitney to support their programs.
"MB Aerospace and UTC already possess a clever operative attribute opposite Pratt Whitney's commissioned bottom programs, and this agreement represents a miracle event for a universe category teams to support UTC.
"The MB Aerospace organisation has already invested some-more than $50m in machining technology, comforts enlargement and in a final year has recruited an additional 100 new full-time employees in support of this expansion and forward of a agreement of this sparkling contract.
"Included in a investment in people is a ground-breaking engineering services group of some-more than 40 technical and programming specialists to support any of a business units from a executive heart located in Rzeszow, Poland.
"We devise to grow this group to during slightest 100 engineering specialists to support a business by a heated duration of expansion confronting a attention in a subsequent 3 to 5 years."
Sam Abdelmalek, Pratt Whitney clamp president, said: "We value a long-standing relationship, and MB Aerospace is a vicious retailer in a world-class supply chain.
"As Pratt Whitney strives for supply sequence excellence, suppliers like MB Aerospace that dedicate to a retailer bullion program, cost reductions and contractual governance will have opportunities to grow with us."
Short URL: http://ukmagazine.org/?p=151587